Featured Services
Contact OTA if you have questions on landlord disputes and other housing issues.
Contact OTA if you have questions about financial assistance for emergency housing.
Contact OTA to find out what types of legal representation is available to you.
Office of the Tenant Advocate - OTA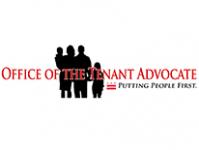 Office Hours
Telephone Intakes: M-F, 8:45 am-4:45 pm, Walk-ins: M-TH, 9 am-4 pm; except holidays
Connect With Us
2000 14th Street, NW, Suite 300 North, Washington, DC 20009
Phone: (202) 719-6560
Fax: (202) 719-6586
TTY: 711



Agency Performance
New late fee protections announced for District tenants.